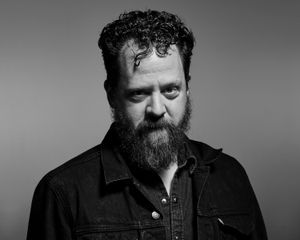 Bio
Alias Patrick Kelly (APK) is a solo artist from Atlanta, Ga.  He is currently adding the finishing touches to his new EP titled "An Unclaimed Inheritance."  This EP has more of an Americana feel to it than his previous full-length release - 2016's "Corruptibility Index."  Both releases were recorded as a full band experience but live he can perform either alone or with a full band.   His influences range from songwriters new and old such as Jason Isbell, John Moreland, John Frusciante, Bruce Springsteen and Tom Waits to groups with a much more textural sonic palette such as Tool, Nine Inch Nails, and David Bowie's Blackstar.
APK began his career as the bass player for the group The Goodies.  The group spent the 90's building a strong regional following throughout the Southeastern United States.  It's not a stretch to say that the band was different.  The Goodies were often hailed as a cross between Vaudevillian storytelling told through the bombast of Roth era Van Halen.
As his years in The Goodies came to a close APK found himself beginning to write his own material while playing bass guitar in a number of other groups.  Eventually this resulted in the recording and release of 2016's "Corruptibility Index."  The album is a full length digital only release.  Thematically, the album asks the question "how much can a good individual endure before they find themselves compromised or corrupted?"  Each song is it's own vignette to the overall theme of the album.
Kelly's new EP "An Unclaimed Inheritance" is currently slated for release in early 2019.  Like "Corruptibility Index" before it, "An Unclaimed Inheritance" has a theme as well.  This time that theme is 'familial.'  Opening track Lamb starts the EP off with a story about a young man who has never had a positive male role model in his life.  The scene opens with him being taken to jail for murder.  Other songs deal with a loved one coping with post war time PTSD (Invisible), mercy & compassion (Old Boy), marriage (Tallest of Trees), or simply leaving it all behind and starting over (West & Gasoline).  Both Invisible and Tallest of Trees were written at The Holiday Music Motel.
To coincide with the release of the new EP, a video for Invisible is in the works.  Stay tuned here for more updates.  You can also get in touch via any of the social media links on this site as well.
Thank You!
Alias Patrick Kelly is also the bass player for James Hall and The Steady Wicked.